List as;- Veg Plants, Perennials, Alpines, Basket Plants, Trees and Shrubs, Fruit
Veg Plants £1.50 4 or more £1. 25 each
Tomato Alicante - Standard Red
Tomato Supermarmande - Beefsteak
Tomato Roma - Regular Plum - for Sauces.
Tomato Tiny Tim - Basket Cherry x1 left
Tomato Tigerella - Good flavoured, Regular Tom with Green Stripes! - Great in Salads for flavour and colour.
Tomato Golden crown - Standard sized, Golden yellow.
Pepper - Tequilla (£2) - Sweet Bell Pepper, maturing from Lilac to Orange! - Avail
Broad Beans - Bunyard's Exhibition x3
We do not grow root vegetables.
PERENNIALS:- fr: £3 - £8.50 ( Majority = 2L Pots @ £4 or 3L Black Pots @ £5.50) MULTI-BUY OFFERS APPLY!
Aconitum Napellus £4, N. Album £5.50
Asters:- N.B. Sarah, Marie, Patricia Ballard and Purple Dome; Little Carlow: N.A. Alma Potschke, Sky Slue: Ageratoides Ashvi; Monch possibly avail Autumn. All 3L Black @ £5.50
Agapanthus Africanus White, Blue and Headborne Hybrids. 3L Black @ £5.50 or A. Purple Cloud 3L Tan £7
Alliums assorted £4 or £5.50
Actea - see Cimcifuga
Astrantia Major and Maxima, plus assorted lost labels. 3L Black @ £5.50 or 3L tan @£7
Alstromeria Inca:- Vito, Sundance, Goal, Sweety. 3L Black @ £5.50 A. Indian Summer 3L Green @ £8.50 and Sweet Laura 3L Tan @ £7
Anemone huphensis Whirlwind, Honorine Jorbert, Andrea Atkinson, Queen Charlotte (Konign Charlotte) and. Praecox £7.
Aquilegia vulgaris Swan Mix, Blue/White, Red/White, Yellow/Pink, Green Apples. 1 1/2L Green or 2L @£4
Aeonium Schwarkopf. £4
Aloe Vera. £4
Asphodeline Alba £4
Bergenia Cordifolia, Overture, Bressingham Alba. 3L Black
Brunnera Looking Glass and Morse. 3L tan @ £7 or Green @ £8.50
Cannas - Madama Angele Martim or Semaphore @ £7 or Tropicana, Tropicana Gold or Tropicana Black @£8.50
Campanula:- Punctata Sarastro, ; Latifolia Lodden Anna; Persicifolia Blue or White Bells: £4 Pyramidalis. £5.50
Cephalaria - Limited £5.50
Convolvulus Cneoreum £4
Centuarea Breeders Mix,; Montana Alba. £4
Coreopsis American Dream. Coreopsis Uptick Bronze and Gold £4
Cimcifuga (actea) Racemosa @ £5.50, Black Negligee @£7.
Delphs -limited £4
Dahlia Blue Boy - Lav Blue; Eveline - White with Dp Rose Eye; Rc Ryan - Burgundy/White Flares: Deep Orange Dinner Plate- not emerged - Spartan -name?; £4
Dahlia Bronze Leaf:- Bishop of Llandaff - Red with a Gold Eye; + Happy Series:- Peach, White or Pink. £4
Dicentra Spectablis, S. Alba £5.50
Digitalis Dalmatian Peach, Purple or White. £4
Dianella Tas Red £5.50 or £10
Dianthus Doris - Salmon, Haytor - White, Valentine - deep Red - first one to flower is white with a violet ring, ? Burgundy/White Bi-Colour. £4
Eremurus (Foxtail Lily) Cleopatra @£8.50 or Ruiters Hybrids. @£5.50
Echeveria £4
Echinacea Pupurea, Cheyenne Spirit mix, £4; Marmalade @ £8.50, Milkshake, Hot papaya( poor) £7
Euphorbia Mellifera, Polychroma £4
Erigeron Glauca Sea Breeze Lilac.£3
Eryngium Neptune's Gold £5.50 , E. Planum ' £4.
Fennnel Common, Bronze. £4
Fuchsia Macrophylla, Ricartonii, Purple Mountain;
Grasses, Imperata Red baron , Carex Blue zinger, Stipa Tenuissima- Pony tails £4
Gladioli Tall Mix £5.50
Geranium Johnsons Blue, Patricia, Anne Folkard, Fay Anna, Blue Blood, Tiny Monster, £5.50; Rozanne, Plenum £7; Tess; Rosemoor. £4
Gaura The Bride, RosyJayne, Variegated. £4
Gem Koi,; Geum Blazing Sunset; £4
Gunnera Mannicata. £5.50
Helenium Moorheim; Autumnale Red Shades. £4
Heuchera Forever Purple, Yellowstone Falls, Redstone Falls, Cutie in Lime, Can Can, Cherry Cola, Neptune, Venus, Green Spice, Amethyst, Solar Eclipse, Marmalade. £5.50
Incarvillea Delavayi Pink or Alba -White. £4
Iliama. - Think Delph Leaf meets Campanula Flower - Lilac £4
Iris Germanica Pumpkin Cheesecake; Orange Chariot: Mission Ridge; Figge; Immortality and Frappe; , Louisiana assorted, Varigated.£5.50
Kniphofia Uvaria, Orange Popsicle; Papaya Popsicle. £4; Caulescens John May's Form £5.50
Lupin Russell Chandelier- Yellow, Chatelaine - Pink, Noble Maiden - White, The Governor - Blue, The Pages - Red. £5.50 - Low Stock Levels
Lavatera lost labels, Rosea, Burgundy Wine or Barnsley baby - almost sold out. £5.50
Lilies Orientale Pink, White, Red, Everest - White £4
Lathyrus Vernus - Everlasting Sweet Pea £4
Macleaya Cordata - Plume Poppy. - Think Large, Buff Poppy Leaves meet pampas Feather - 6-8'. £5.50
Mathiosella Bupleroides Green Dream.- Think Angelica leaf meets Euphorbia Flower £5.50
Mint Spearmint, Gingermint, Eau de Cologne £4
Melitis Royal Distinction. £8.50
Meconopsis Betonicifolia Lingholme - Himalayan Blue Poppy.£8.50
Mukdenia Karasouba £4
Nepeta Catararia - Catnip, Racemosa, Six Hills Giant. £4
Papaver Orientale Mixed, Papaver Tango - think eschscholtzia - Californian poppy - taller, bluer leaf. £4
Physallis Franchetti Gigantea £4
Phlox Paniclata Assorted inc David - pure White; Grenadine Dream and Franz Schubert. £4
Polygonatum Humile £4; Varifolium. £5.50
Primula Beesiana; Japonicas Ass inc Millers Crimson £4
Penstemon, Electric Blue, few lost labels £4
Oenothera Siskyou Pink or Oenothera Primrose Yellow £4
Ophiopogon Nigrescens - Lily turf - aka - Black grass £4
Oregano (Majoram) Aureum; Hot and Spicy or Variegated.£4
Osteospermum (Hardy) - Tresco Purple, Lady Leitrim - White with Pink Blush / Eye. £4
Osteospermum (Half Hardy) - See Listing under basket and Container Plants - Colours white, yellow, oranges, pinks, purples, reds.£2.50
Rodgersia Chocolate Wings £7
Scabious Fama Blue - Sold Out
Sage Purpurea, Tricolour, Icterina £4
Salvia Gregii Trebah White, Hot Lips, NEW Cherry Lips - Dk Cherry and White Bi-colour, Primrose Yelllow + Pink eye, NEW: Amethyst Lips- Violet and White bi-colour;
Salvia Macrophylla Blackcurrant Sage; Salvia Love and Wishes, Embers Wish, Wendy's Wish; Patens Gaunajato- Deep Electric Blue; £4
Salvia Guaranica Black and Blue: Amistaad; Uglinosa Sky High Blue- 6'. £5.50
Sedum Herbstfreude - Autumn joy. £4
Silene Sparkling Rose £5.50
Thalictrum Rochebrianum, Flavum Glaucum. £5.50
Thyme Golden Queen, Citrodina, Silver Posie, £4
Uvularia Flavum Glaucum - Yellow Fairy Bells .£4
Veronica Moody Blue. £4
Veronicastrum Adoration £7
Watsonia Meriana, Pyramidalis Peach Melba. £4
Zantedeschia - Calla Lily - Aethiopa, Morning Sun, Cantor, Flame - Scarlet + Yellow Flecks, Picasso - Purple/Ivory. £5.50
ALPINES:- 1L POTS £2.50 - 10 or more £2 each
Aethionema Grandiflora
Aubretia Katie - Purple Blue, Variegata.
Arenaria Montana; Pupurescens
Armeria Splendens Dp Rose, S. Alba and S. Pink Blush
Arabis Coburgii Variegata - White Flr, Coburgii Alba - Think Mounding white Aubretia!
Campanula Clips Blue or White; Dickson's Gold or (Pinkins - 1.5l Pot @£3).
Delosperma J.o.D. Garnet or Rosequartz, Cooperii, Sutherlandii, Congestum
Dracocephalum Blue or White.
Erigeron Karvinskianos Profusion.
Erodium Bishops's Form -Pink or White, E. Flore Pleno - Double Rose
Gypsophila Ageratoides - Spreading White
Iberis - Candytuft- Sempervirens, S. Golden Candy.
Lampranthus Red, Orange, Purple, Pink or White/Yellow
Leontopodium - Eidelweiss - Matterhorn.
Mazus Reptans Alba
Geranium Nigrescens- Bronze Foliage/white flr; Ger. Incana - violet.
Pratia Pendunculata White; Country Park Blue
Penstemon Mersea yellow.
Primrose Vulgaris, V. Hall Barn Blue.
Phlox Subulata Alba£3, Emerald Cushion £3, Red Wings, Candy Stripe £3. Douglasii Red Admiral.
Primula Vulgaris and Hall Barn Blue
Saponaria Occymoides (Tumbling Ted) - Pink or White
Scabiosa Ritz Blue or Pink Dome
Sedum Coccineum, Tricolour, Kamschaticum/Variegata, Cappa Blanca, Choco Balls, Sea Stars
Saxifraga Mossy Red Shades or Mossy White, Whitehall, Cuniefolia Variegata, Urbium - London Pride.
Silene Schafta - Pink; Druett's Variegated (foliage) - White Flr.
Teucrium Chaemadrys
Veronica Prostrata Delft Blue, Purple Haze, Georgina Blue
Vinca Minor: V. Minor Variegata
BASKET + CONTAINER PLANTS (Majority = 9cm Pots @ £2.50 Any 10 or more = £2 each) *Denotes 10cm Pots @ £3
Bidens *El-Doro - Large Deep Yellow See pics under Lysimachia x2 left
Begonia Illumination/Super Cascade - Trailing :- Peach Picotee, Bicolour Pink or Scarlet .
Begonia *Boliviensis Semi-Trailing Orange, White or Yellow - stunning in baskets and containers as these are large plants - 3 would fill a 14" container!
Begonia Non-Stop Mocca Scarlet or Citrus Mix; *Scented Red, Yellow or White; Majestic *Peach Shades - huge 20cm flower heads
Diascia Fuchsia Pink, Orange
Dianthus Dinamic, White
Dicondra Emerald Falls
Fuchsia Giant Semi Trailing Mixed - £2.50.
Geraniums (Pelargoniums). Zonals - Bush - Reds - low stocks, Orange, Salmons, All Shades of Pink inc 3 x Bi-Cols, Lavender, Violet, Burgundy. See Pics.
*Geranium Regals:- Mandarin Orange,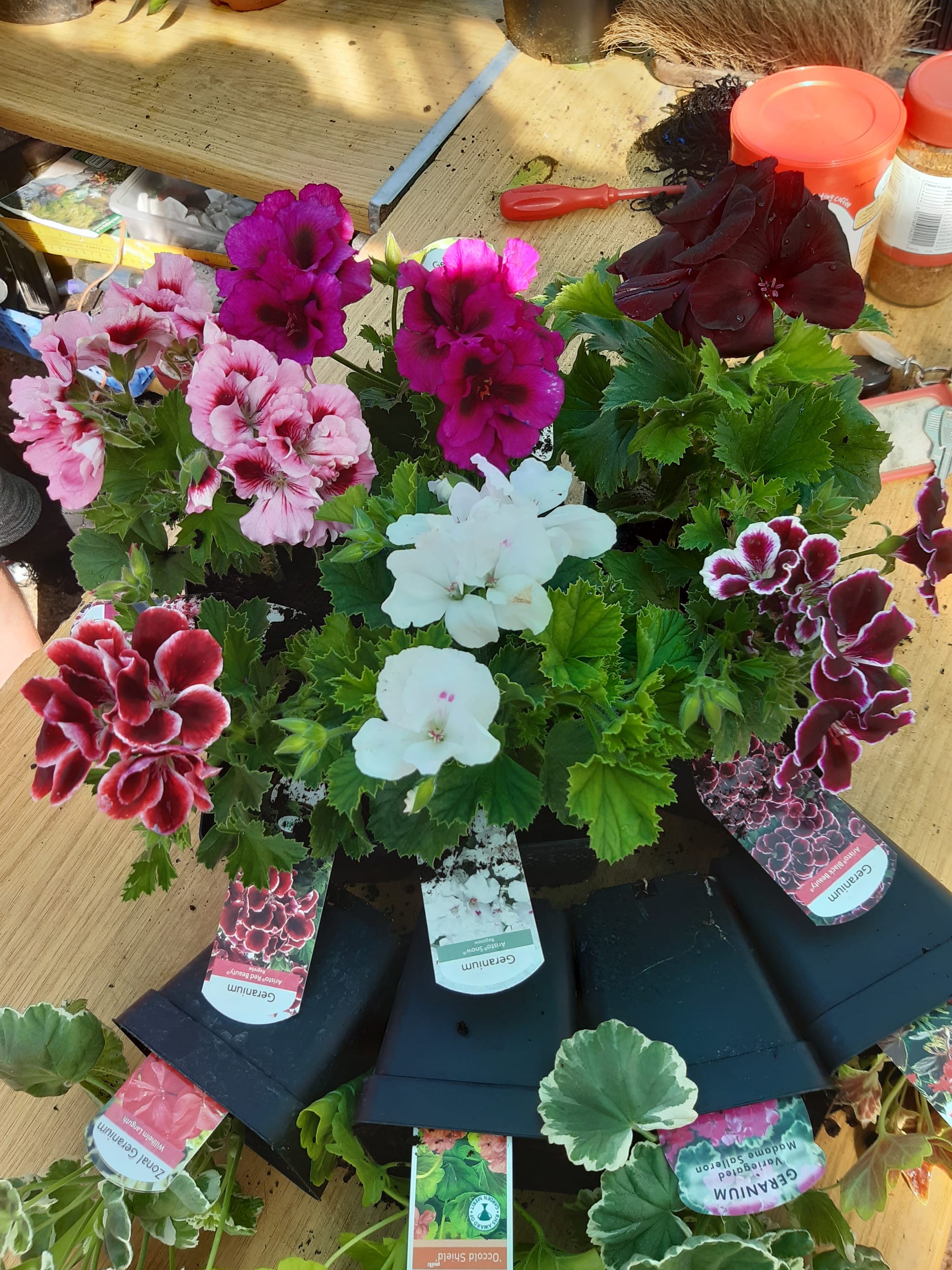 *Geranium Scented: Orange Fizz,
*Geranium Variegated;- Frank Headley, Carolina Schmidt, Wilhelm LLanguth, Occold Shield, Vancouver Centennial.
Geranium Ivy Leaf - Semi Trailing. ( Zonal /Ivy X) Marcada Orange, Cassiopeia Wine Red.
We have a full range of Ivy Leaf, trailing Geranium colours - woody stemmed over-wintered - if you wish- ask for details. 50p
*Geranium Novelty:- Antik "Climbing" Geraniums Orange; Summer Twist (Scalloped Leaf + Exploded Petals!) Red, . *Calliope Wine Red - LARGE!
Geranium Quantum Mix - heavily zoned and scalloped leaf with exploded flower petals @ £2 or 10+ @ £1.50
Geranium Bull's Eye Mix - Big "Chocolate eye" on each leaf - @ £2 or 10+ @ £1.50. Can be Mixed with Quantum above.
Isotoma Fizz n Pop Purple - aka Laurentiana - Low STocks
L. Richardii - see below
Lysimachia Aurea, Midnight Sun and Sunset
Osteo Single:- Soleo Deep Red; Flower Power Purple Sun, *FP Compact Blue or *White; Special Fire, Akila Berries and Cream Mix - Pastels, Sunset Shades Mix - Hot,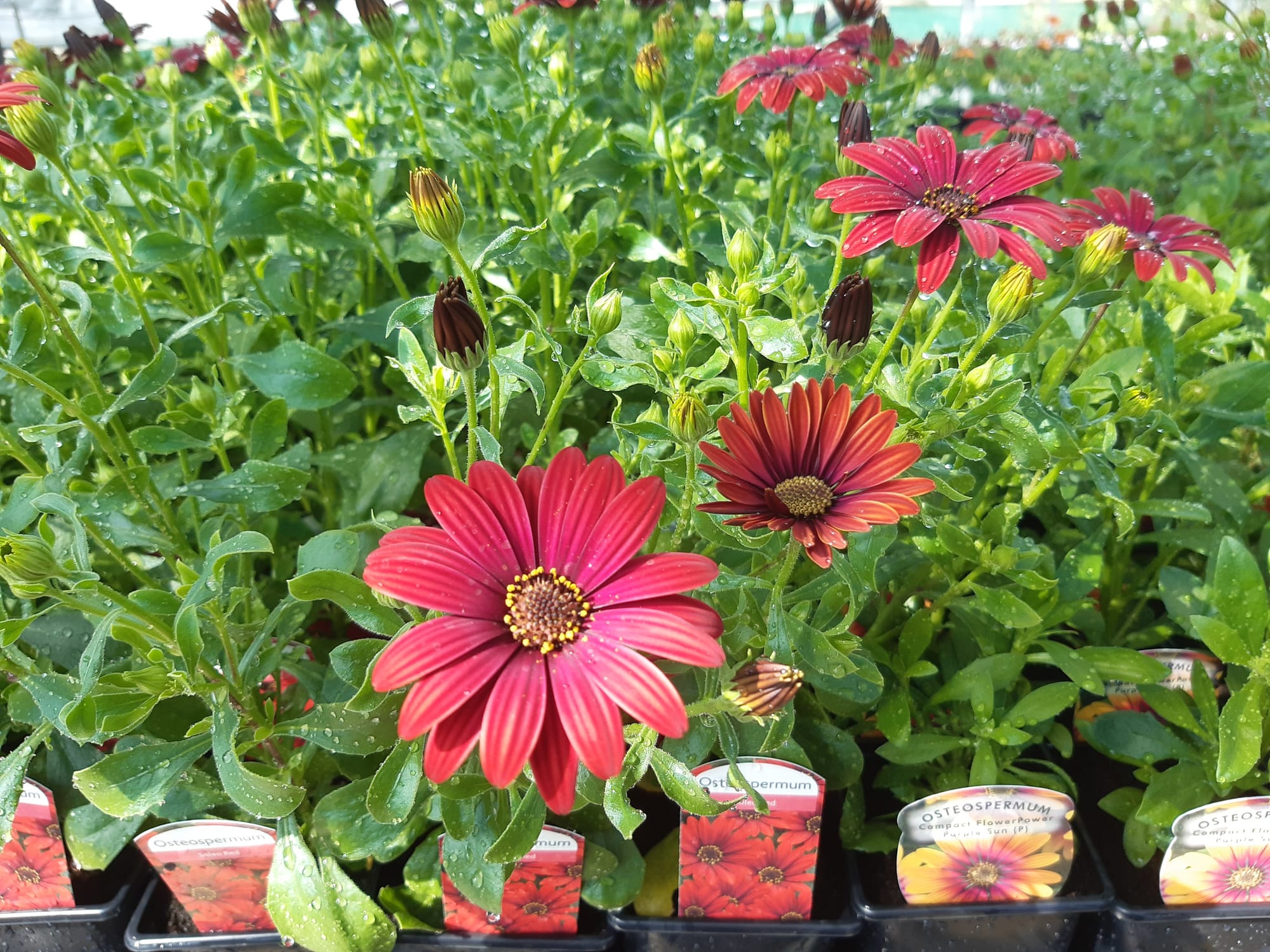 Single Special Fire
SHRUBS / HEDGING / TREES Fr: £4 - £15
Amelanchier Lanarkii £7
Convolvulus Cneoreum £4
Brachyglotis - Senecio - Silver Dormouse £4
Buddleia Buzz (dwarf) Fuchsia Pink, £5.50 Violet £7; Buzz Mix £8.50; Buddleia Davidii Mixed £4
Forsythia Intermeadia - Bushy £5.50
Betula Pendula - Silver Birch £7
Berberis Atropurpurea £4
Hydrangea Red Baron £4
Griselinia Littoralis £4
Cytissus - Broom - Hollandia - Red/Yelow/Pink £7
Cistus Purpurea or Alan Fradd £4
Euonymus Europaea - Spindleberry
Photinia Red Robin - A few in Good Order - Most damaged by illegal Cuttings. £7
Prunus Laurocerasus - Common Laurel - Nice £5.50 / £7
Prunus Laurocerasus Variegata £5.50
Prunus ? - Bay Laurel £4
Leucothoe Scarletta - Switch Ivy £5.50
Fagus Sylvatica - Common Green Beech - Large or Small £4 / ££8.50
Fagus Syl. Atropurpurea - Purple Beech £7
Horse Chestnut £5.50
Crataegus Monogyna - Maythorn, Quickthorn £4
Prunus Spinosus - Blackthorn £5.50
Viburnum Lantana - Wayfarer Tree £7
Sorbus Aucuparia - Rowan - Mountain Ash £7
Quercus - Oak £5.50
Robinia Psuedoacacia £10
Corylus Avellena - Hazel £5.50
Juglans Reglia - Walnut £15
Prunus Myrobalan - Cherry Plum £4
Fruit Trees £15 to £20
Apple £15 Apple Dual - Sunset Red and Golden Delicious £20
Cherry Morello or ? @ 15
Plum - Greengage @ £15
Plum - Victoria; Damson Merryweather @ £15 Plum Dual - Marjories's Seedling and ? @ £20
Pear Dual - Louise Bonne de Jersey and Conference £20
Patio Apple Red Spur or Gold Spur, Pear or Cherry £15
FRUIT BUSHES £4 to £8.50 Limited Availability
Raspberry Autumn Bliss /Autumn Gold £4
x1 Blackcurrant
Bluberry Patriot £8.50
Gooseberry Green/Yellow £4
Lost Label Grape Vines £8.50
Gojaberry £5.50